Introducing the FROG Water Care App
King Technology has launched a new app targeted at current FROG pool and spa consumers with the goal of enhancing their overall FROG experience and increasing retention of satisfied customers to your store.
Note: When you create your account an activation link will be sent to your email address. If you do not receive this email within 1 minute, please check your spam folder.



1. For both pool and hot tub owners
2. Tests for pH, Total Alkalinity, Hardness and chlorine or bromine levels
3. Testing History and Reminders to complete tasks
4. Troubleshooting plus helpful videos, manuals and Pool or Spa School
5. Connects users with FROG dealers

1. Stronger Retention – app reminds them to see their dealer
2. Knowledgeable customers with fewer questions
3. Adds a premium value to FROG product offerings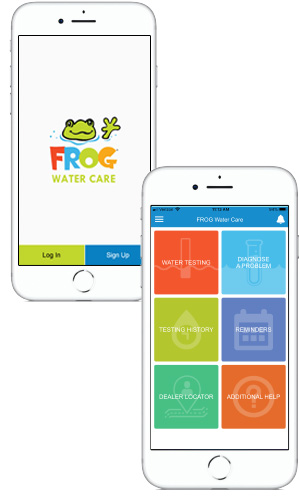 Customer Retention Features
Call your Dealer Quick Link
One-click calling capability
Easiest way for customers to connect with you
Can set default store through the "Dealer Locator" tool
Replacement Reminders
Notifications for FROG maintenance
Reminders to replace chlorine and minerals
Ensures you keep receiving repeat business!