Introducing: FROG® Recycling Program
Get a FROG Recycle box for your store:
increase traffic and increase revenue
FROG®  makes life easier for hot tub owners and drives repeat business for you, our valued partners.
Now FROG's prefilled, no-touch, no-smell, no-mess Cartridges are recyclable!
And we've made it easy!

Order the FROG Recycling Box by clicking the Order Today button below

Set up the FROG Recycling box in your store – and let your customers know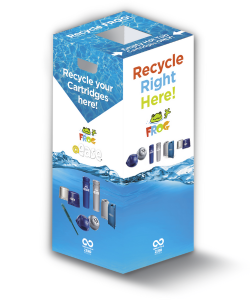 Customers bring their empty Cartridges to your store and drop in their Cartridges






UPS picks up full FROG Recycle box – UPS label is already on the box!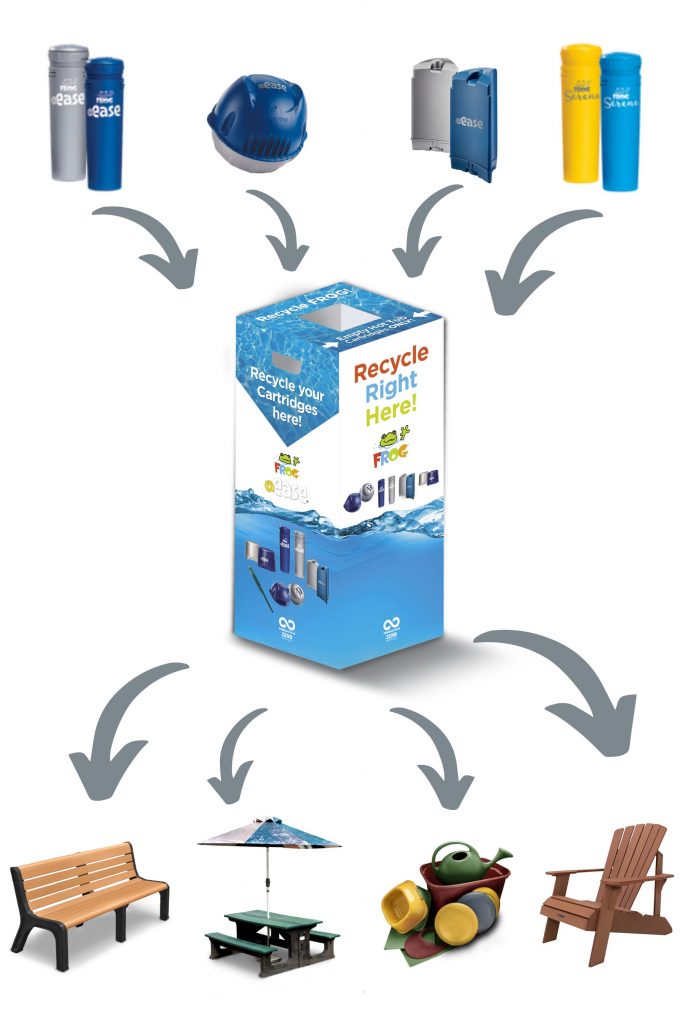 Cost to participate is $249 and the rewards are many:
Greater ability to acquire sustainability conscious consumers
Greater ability to retain FROG users who are asking for a sustainable solution
Increased store traffic for consumers who buy online but want to recycle
A positive environmental impact that affects your entire community
Increased incremental revenue
One less customer objection
Recyclable FROG Cartridges:
FROG @ease®
FROG Serene®
FROG Filter Mate®
Frequently Asked Questions:
How long does it take to fill a FROG Recycle box?
We don't know the exact amount of time, but a good estimate is one year.
What FROG Products can I recycle?
FROG @ease® Mineral Cartridges
FROG @ease® SmartChlor Cartridges
FROG Serene® Mineral Cartridges
FROG Serene Bromine Cartridges
FROG Filter Mate®
What do you do with the Cartridges?
When the FROG Recycle box is full, UPS picks it up and ships it to TerraCycle®, a leading global recycler. Check out TerraCycle at https://www.terracycle.com/en-US/ You'll find all kinds of amazing information.
At one of TerraCycle's Materials Recovery Facilities (MRFs) FROG cartridges are processed and made into raw material, which is made into all types of useful things from outdoor furniture and decking to plastic shipping pallets, watering cans, storage containers and bins, tubes for construction applications, flooring tiles, playground surface covers, athletic fields, and more!
Does recycling even work?
You may have heard or read news that questions whether or not recycling is worth it. You may have read that "Only 6% of all plastic is recycled." And some articles state that  "Recycling doesn't work."
This program is different. We're partnering with TerraCycle; they are distinctly different than a local curbside recycler. With 20 years of industry expertise, TerraCycle goes far beyond recycling to include solutions in recycled content and reuse. TerraCycle recycles "the unrecyclable." They guarantee that they recycle all of the accepted waste sent through their recycling programs – like the FROG Recycling program. You can learn more on their website.
Recycling alone won't solve the waste crisis. But it does play an important role in the circular economy.
Why doesn't our local service recycle hot tub Cartridges?
TerraCycle develops recycling solutions for waste streams that are not typically curbside recyclable.
What makes something municipally recyclable depends on whether the local recycling company can make a profit recycling it. If the cost of collecting and processing the waste is lower than the value of the resulting raw material, it will likely be locally recyclable. If the costs are higher, then it likely won't be.
The good news is that most trash is technically recyclable.
TerraCycle can recycle the hard-to-recycle because they work with brands, retailers, and other stakeholders who fund the recycling process – like FROG.
Thanks again for partnering with us to move toward zero waste. If you have any questions, please contact us at customer.service@kingtechnology.com or call 800-222-0169.