Introducing FROG® Maintain™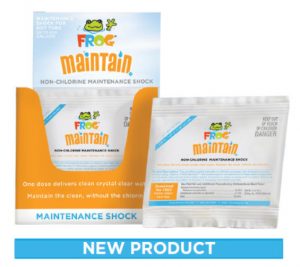 The recommended maintenance shock for all FROG hot tub products.
Enjoy clean, sparkling water in just 15 minutes. Cyanuric Acid free.
Simply open the pouch and pour FROG Maintain into your hot tub.

THE ONLY THING FASTER THAN HOW IT WORKS,
IS HOW QUICKLY IT SELLS.
ALL IN THE FAMILY: Use FROG Maintain with all FROG hot tub sanitizing systems. At start-up use FROG Jump Start®. Use FROG Maintain with the FROG @ease® System, the FROG Serene® System, FROG Filter Mate™ and don't forget to use only FROG Test Strips or FROG @ease Test Strips if you are using a FROG @ease system. Offer hot tub water care from the brand people trust.
AVAILABLE JULY 15, 2020 – SEPTEMBER 30, 2021. ORDER THROUGH YOUR DISTRIBUTOR
OR, FOR A ONE TIME LAUNCH OFFER OF 15% DISCOUNT OFF DEALER PRICING.
Due to increased demand, there may be delays on shipments of some FROG products. We are committed to honoring all requests. If you have any questions, please email Courtney Buschkamp.