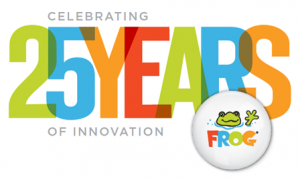 Sign up period has ended for this program.
Thank you
Deadline is approaching – Feb 15, 2021 – Sign up for free!
We will Celebrate FROG's 25 years All Year with Promotions, POP and Party Items for You!
Create a buzz around your store and compel customers to come on in
Get free giveaways for your customers
Give your store a fresh, fun, party atmosphere
Join the Celebration – it's Easy!
Add your story to the FROG Circle of Celebration at FROG 25
We donate $25 for every upload to Banyan Community, up to $25,000
Get inspired – see what others are saying about their FROG experience
Customers join too – they'll see your store and your stories – that's free advertising for your store
Sign up for free POP and a Party Kit full of Promotional Items for Your Store by Feb 15, 2021
April 1 – July 31, promote FROG's 25 celebration, stock FROG product and redeem coupons
Receive a party box stocked with tons of giveaways
Get fresh new POP
Watch new and existing customers flood your store with sales
Expectations:
Keep your shelves stocked with the FROG products you carry
Train your employees on Fresh Mineral Water®∞ and each FROG product
Get the latest and greatest free POP – get your new hot tub and Leap POP
Redeem the FROG coupons presented at your store

You will be reimbursed at the conclusion of the campaign

Promote the FROG 25 celebration through emails, website and/or print advertising
Order a good supply of FROG Bam and FROG Maintain to prepare for the coupons you'll get
Train your employees on Fresh Mineral Water∞ and each FROG product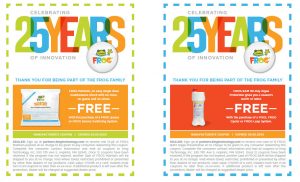 We will support you:
Our digital marketing will geo-target consumers in your area – it's like personalized advertising for your store

We'll send you a free party box full of customer giveaways and ideas on how to create excitement and draw customers to your store – or your curbside
We'll send free POP
Digital consumer coupons will drive new and repeat business to your store

Our usual programs work with FROG 25

All who complete product training will get free polo shirt
You'll get up to $1,500 in co-op dollars for promoting the FROG 25 Celebration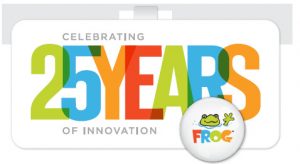 Program Dates: Sign up between November 1, 2020 and February 15, 2021
Digital coupons are valid April 1, 2021 through July 31, 2021

2 free Maintain with hot tub system purchase
1 free BAM with Pool FROG cycler and/or Mineral Reservoir purchase

Mail in coupons by August 31, 2021 for reimbursement to:
Marketing
King Technology, Inc
530 11th Ave. S.
Hopkins, MN 55343
Due to increased demand, there may be delays on shipments of some FROG products. We are committed to honoring all requests. If you have any questions, please email Courtney Buschkamp.
∞ For pools and hot tubs.