How to Re-Open Your Store and Serve Your Customers Successfully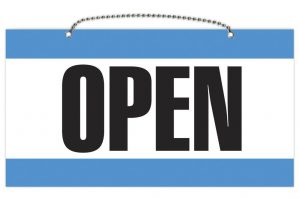 It's a brave new world, and your business can flourish in it. In fact, the media reports that business in pool and spa companies is booming! Your store may already be open or hoping to re-open soon.  FROG® has gathered information and tips to help you.
Before you reopen or if you're still open:
Establish a clear process to ensure your employees and customers safety. And reassure customers that their safety and your employees' safety are paramount. Post this on:
Social media
Signage on your store window and/or doors
Essential Messaging:
Signage, social posts and emails should include that your store will:
Remain in compliance with government restrictions
Incorporate effective social distancing measures
State your sanitizing procedures
Download FROG's Curbside service sign, and customize it with your messaging
Print a few copies of the Curbside service sign with different messaging
In Your Store:
Put up plexiglass dividers at checkout
Give away or sell inexpensive masks, disposable gloves, and hand sanitizer
Mark "one way" patterns for aisles
Curtains can make quick dividers for water testing areas
Put sticker or tape marks on the floor to show safe social distancing, especially at checkout lines
Windows can serve as pickup points and/or customer interaction points
Offer mobile device checkout stations and avoid checkout lines
Set up a Venmo or other online payment service and offer contactless payment
Customer Convenience is Here to Stay
One thing that hasn't changed: customers like convenience. So curbside service, online ordering, and even delivery may be become standard operating procedures. And they'll likely build loyalty.
Take Advantage of Limitations
Limiting the number of customers inside your store can be a positive. As customers wait outside or in their cars:
Provide them with POP items – postcards, a printed flyer or newsletter
Set up a screen and run videos if that is workable
Post a list of YouTube videos they can watch (See a sample later in this article)
Customers have very likely already experienced limited people in other stores, so this will probably be a familiar and maybe even expected practice
Limit a customer's time in the store can help eliminate long lines of customers waiting to enter your store and long lines at checkout.
Offer private appointments to customers who need more time or education.
Offer texting – any questions while you wait? On your signage, post your mobile phone or email and offer customers to email or text you while they wait. Have one employee available to manage these measures, and of course, ensure that your employee is welcoming and accommodating.
Keep it Quick
In a recent study done by CommerceHub, 80% of Amazon's customers make their purchase of merchandise from Amazon because of (prime) quick delivery.
You can offer quick, local and most importantly, personal service. Offer returns, suggest help, offer service – these are difference makers. Amazon offers returns but they are not so convenient, and they don't suggest help or offer service.
Ask, Listen and Educate
One key focus: be supportive and empathetic to your customer.
Take the time to ask them how they're doing and then listen. Consider how life has changed for your customers and how can you best help them.
Training and education is one way to help. FROG has many educational videos available. Share specific links with your customers, here are a few:
FROG Fresh Mineral Water for Pools
FROG Fresh Mineral Water for Hot Tubs
The Truth About Salt Water Pools
And don't forget your employees – FROG has excellent training for them.